Elisabeth Rhyne: Leading the Charge for Consumer Protection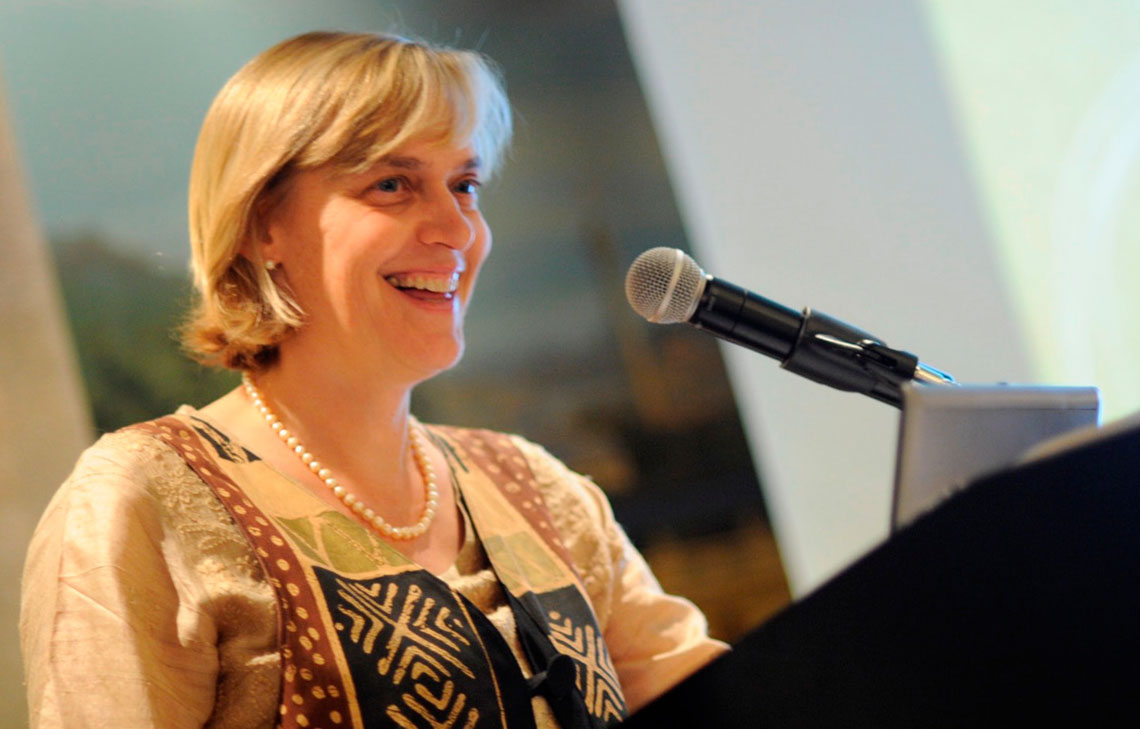 Elisabeth Rhyne, known as Beth, is managing director of the Center for Financial Inclusion at ACCION International, a research and action center for collaboration between the microfinance industry and the private sector. The Center spearheads the Smart Campaign for client protection in microfinance. Beth brings together microfinance leaders and private sector experts to address challenges facing the microfinance industry. She has published numerous articles and books on microfinance, including Microfinance for Bankers and Investors: Understanding the Opportunities and Challenges of the Market at the Bottom of the Pyramid and Mainstreaming Microfinance: How Lending to the Poor Began, Grew and Came of Age in Bolivia. She also co-edited The New World of Microenterprise Finance, which provided the introduction to microfinance for many of the field's current professionals.
Beth was formerly director of the Office of Microenterprise Development at the U.S. Agency for International Development (USAID) from 1994-98, where she developed and led the Microenterprise Initiative. As senior vice president of ACCION International from 2000-2008, Beth led ACCION's initial entry into Africa and India and directed the organization's research efforts to develop new financial products.
I recently had an opportunity to speak with Beth about her experiences:
Your association with microfinance industry started in the 1980s. Over these years your contribution to the industry has been remarkable. What made you choose microfinance as a career?
Beth: I was Involved with the industry before it was microfinance. At that point it was called microenterprise lending, and there were very few successful models. I got involved because I wanted to work in economic development. I was working with USAID in Kenya. I was present when Women's World Banking in Kenya made their very first loan. Between 1985 and 1995, we built microfinance into an industry as experiments in different places took off. Organizations really started to learn from each other. USAID's Office of Microenterprise Development played an important role in letting people in different countries share information about each other, and it helped to create a global industry as opposed to individual experiments.
Real innovation happens in the field; the real heroes are people like Ela Bhatt (founder of the Self Employed Women's Association in India), who have worked at ground level. I think my main contribution has been in helping build the global industry. That includes knowledge exchange, distilling best practices, introducing important players to each other, and singling out those organizations that had their act together to give them funding so they could grow.
The Smart Campaign, one of your initiatives, is a big step towards making the microfinance industry serve its customers better. What was its genesis? Have the campaign's mission and goals been accomplished, or is there a long way to go?
Beth: In the late 1990's and early 2000's the microfinance industry was going through a complicated transition toward commercialization. That was the time I moved from USAID to Accion. Accion has always been a leading proponent of the commercialization of microfinance and I, too, have been a part of the process. In order to reach a lot of people you need to commercialize, but a purely commercial approach has to be tempered by standards to protect clients.
"It troubled me to see the way financial providers were treating clients, because I think client protection should be a cornerstone to any retail business."
In 2008, during the global financial crisis, U.S. financial institutions failed to protect mortgage buyers. It troubled me to see the way financial providers were treating clients, because I think client protection should be a cornerstone to any retail business. When we first started talking about consumer protection in microfinance, most people in the industry saw it as a regulatory issue. They wanted to leave it up to regulators to be responsible for making standards. Providers would just do what they were told by regulators. But I think it is the other way around. Providers should take the lead. They are the ones who directly touch clients and determine whether clients receive good treatment. This is one of the basic ideas behind the Smart Campaign.
The Smart Campaign came about through many conversations with leaders in the industry and has really taken off in terms of global recognition and commitment. I am very happy to see this. Ujjivan (Ujjivan Financial Services in India), was one of the early proponents. Founder and CEO Samit Ghosh was one of the original members of the Smart Campaign Steering Committee, and I appreciate him for taking the time to contribute to the global movement. There are more than 40 certified institutions internationally (as of May 2015), serving more than 21 million customers.
Your publications and books have changed the way the world looks at microfinance. What was the inspiration behind writing?
Beth: Most books I have written have been collaborative projects. Sitting and writing a book alone is very time consuming (although Mainstreaming Microfinance was a book I wrote alone, and it is my favorite). I hope what I write changes things. The most exciting thing is when someone comes up to me and says my book has made them think about microfinance differently or launched them into working in microfinance.
One piece of mine that is widely cited is an article, "The Yin and Yang of Microfinance: Reaching the Poor and Sustainability," that I wrote about 15 years ago. It was about the polarization between people in favor of commercialization and people in favor of poverty outreach. It was an unfortunate war, because the differences were not that great. The people who were commercially focused needed to reconnect socially and those socially driven needed to learn from those focused on the bottom line. The article was a plea for the two sides to reconcile and work together. Now they largely have, and the industry spends much less energy fighting with itself. I have worked to contribute to that change.
Interest rates are a topic of concern in consumer protection. So let me ask: How much is too much?
Beth: Criticism about high interest rates is always going to be a problem, because if you are making small loans it is costly to make them, so naturally they have to be relatively high. This is politically difficult, and it is going to make people angry. How can we bring down rates without stopping lending to very poor segments? We have to turn to technology to do this. We are seeing interest rates come down in the industry as a whole. The global average rate is in the 30s, while it used to be in the 40s or 50s. We are heading in the right direction, but it will always be an issue politically. Interest rate caps are not the answer because usually the caps mean that lenders stop making small loans, or they don't grow and they don't innovate.
Any message for the people working in the microfinance industry?
Beth: Being able to do something socially valuable while earning a financially secure living. There are many jobs that lack social value. Educated people will always look for more socially valuable work.
People should be proud of what they are doing. Working in microfinance requires a lot of creativity and dedication. Working on providing financial services to the poor is a big responsibility.
Further Reading:
Books written by Elizabeth Rhyne:
Microfinance for Bankers and Investors: Understanding the Opportunities and Challenges of the Market at the Bottom of the Pyramid
Mainstreaming Microfinance: How lending to the poor began, grew, and came of age in Bolivia
The New World Of Microenterprise Finance: Building Healthy Financial Institutions For The Poor (with Maria Otero)
What Makes Them Tick? Exploring the Anatomy of Major Microenterprise Finance Organizations (with Linda Rotblatt)
Books edited by Elizabeth Rhyne:
The Commercialization of Microfinance: Balancing business and development (with Deborah Drake)
Papers and articles written by Elizabeth Rhyne:
"Microfinance Matures: Opportunities, Risks, and Obstacles for an Emerging Global Industry" (with Maria Otero)
"Microfinance Enters the Marketplace" (with Robert Peck Christen)
"Maximizing the Outreach of Microenterprise Finance: An Analysis of Successful Microfinance Programs" (with Robert Peck Christen and Robert Vogel)
"Financial Inclusion and the Post-2015 Global Development Goals"
A video of Beth's remarks "How to Avoid an India-type Microfinance Crisis in the Philippines" 
Sources for this Story: 
http://www.centerforfinancialinclusion.org/about/leadership/121-elisabeth-rhyne
http://www.huffingtonpost.com/elisabeth-rhyne/
http://www.grameenfoundation.org/bio/elisabeth-rhyne