Mavsuda Vaisova: Nonstop Learning in Tajikistan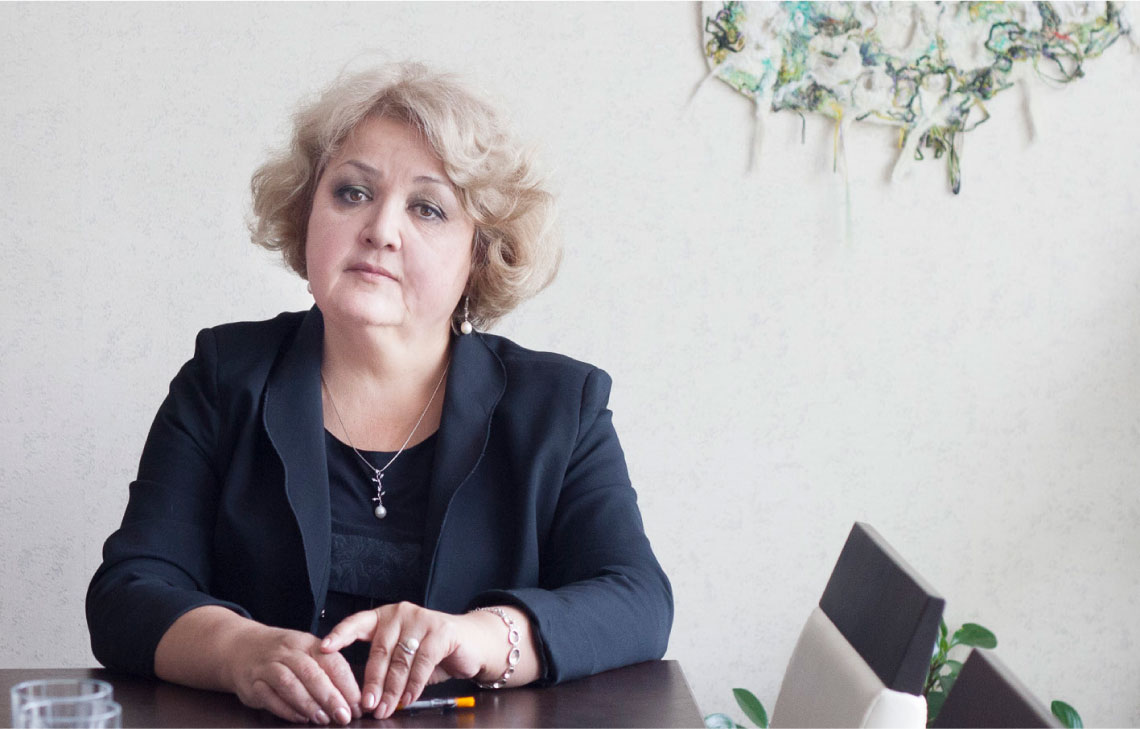 Mavsuda Vaisova, General Director of the Microcredit Deposit Organization "HUMO" in Tajikistan, began her career teaching accounting. A self-described "active person" Mavsuda decided to enroll in an English course in 1998 to expand her professional horizons. After just one year of studying English, she was offered a position as a credit officer with CARE International and managed her own district close to the capital city of Dushanbe. This formative experience gave her the opportunity to learn microfinance from the ground up.
After completing her first year with CARE, Mavsuda began managing a project funded by USAID focused on developing women's entrepreneurial and leadership skills to help them become more financially independent. Over a four-year period, Mavsuda helped reach 1,200 women through credit, leadership training, and business development services.
As she did this work, Mavsuda, a single mother, discovered a passion for helping women achieve economic self-sufficiency by developing skills to generate income for themselves and their children. Maysuda's own skills in economics, accounting and teaching proved an asset in her microfinance work. For instance, she discovered that many of the women she worked with through the economic opportunity project were producing goods to sell but did not understand how to calculate the true costs of production. She recalls one woman who made tomato sauce but sold it at the cost of the tomatoes only. Because this woman did not account for her own time and labor when setting the price, there was no margin left for her. Mavsuda helped her and other women like her to develop budgets and calculate prices so they could profit from their work. Her love of teaching has also carried over into Mavsuda's career in financial inclusion. From her early days as a credit officer to her current role at HUMO, she enjoys conducting training sessions whenever possible.
Mavsuda has been a force at HUMO, shepherding the organization from a project of CARE International to a microlending organization and finally to a fully-licensed deposit-taking institution with 800 staff. She describes CARE as a "strong school for me personally" where she learned the business of microcredit as well as the ingredients for a positive work environment: strong relationships, respect, and a committed and professional staff willing to go the extra mile. She has continued to nurture this culture within HUMO.
Creating what is now one of the top five microfinance institutions in Tajikistan has not been easy. Mavsuda describes the experience as "10 years of nonstop learning." She has navigated internal challenges such as creating business processes, developing the organizational structure and hiring and training staff. Finding qualified staff—particularly women and especially in remote areas—is a challenge Mavsuda is committed to addressing. If she cannot find the staff HUMO needs to grow and compete, she is determined to train them. In 2014, she opened HUMO's school of directors, which offers training programs in risk management, portfolio management and other areas. HUMO is now considering a managerial school to provide additional leadership training.
HUMO has faced external challenges too including the global financial crisis in 2008 and current economic instability in Tajikistan. Mavsuda approaches such crises with patience, problem-solving skills and teamwork. Despite her bias for immediate action, her first priority is to step back and look for the root of the problem. She also relies on her team and believes that "one person cannot find a good solution, and one person [alone] cannot survive in such difficult situations." She firmly believes that leadership means being responsible for mistakes and requires a feeling of personal ownership for the company, its people and its clients.
Mavsuda is one of four women managing directors of the biggest micro deposit-taking organizations in Tajikistan. This is unusual when compared to the traditional banking sector in the country where attitudes are less accepting of women in this type of leadership role. She feels that it is the more women-friendly corporate culture of the microfinance institutions that make the difference.
She has witnessed firsthand the capacity of Tajik women to absorb new skills and to excel as both entrepreneurial clients and HUMO staff members.
The fact that women in Tajikistan are more vulnerable than men and subject to negative attitudes in the workplace is what drives Mavsuda to serve them. Although women are very active in agricultural production, they legally own only five percent of the land—the rest is registered to men. Because of the unique hurdles women face with land and business ownership, family relationships, and access to education—and because of the lack of confidence that often comes from navigating such issues—HUMO recognizes the need for special financial products targeted to women. With the advice of Women's World Banking, Mavsuda has also realized that women need more conversation and explanation when being offered products and services than men. They also need training on business skills and knowledge about how to use financial services. To continue to serve women well, HUMO is building the pool of talented women staff members. More women credit officers will mean more women clients because they bring qualities like sensitivity and responsibility to their roles in the organization. When announcing vacancies HUMO creates special advertisements encouraging women to apply.
Mavsuda sees her success as tied to the positive development of women in Tajikistan. She has witnessed firsthand the capacity of Tajik women to absorb new skills and to excel as both entrepreneurial clients and HUMO staff members. But many more Tajik women need access to educational and business opportunities. Mavsuda hopes that HUMO can help to fill this gap. She wants to see women not just working the land and running family businesses but as the formal owners of those lands and businesses. She dreams that HUMO can help all women clients reach financial independence and success.