Muna Sukthian: I am Very Happy When I See Other Women Succeed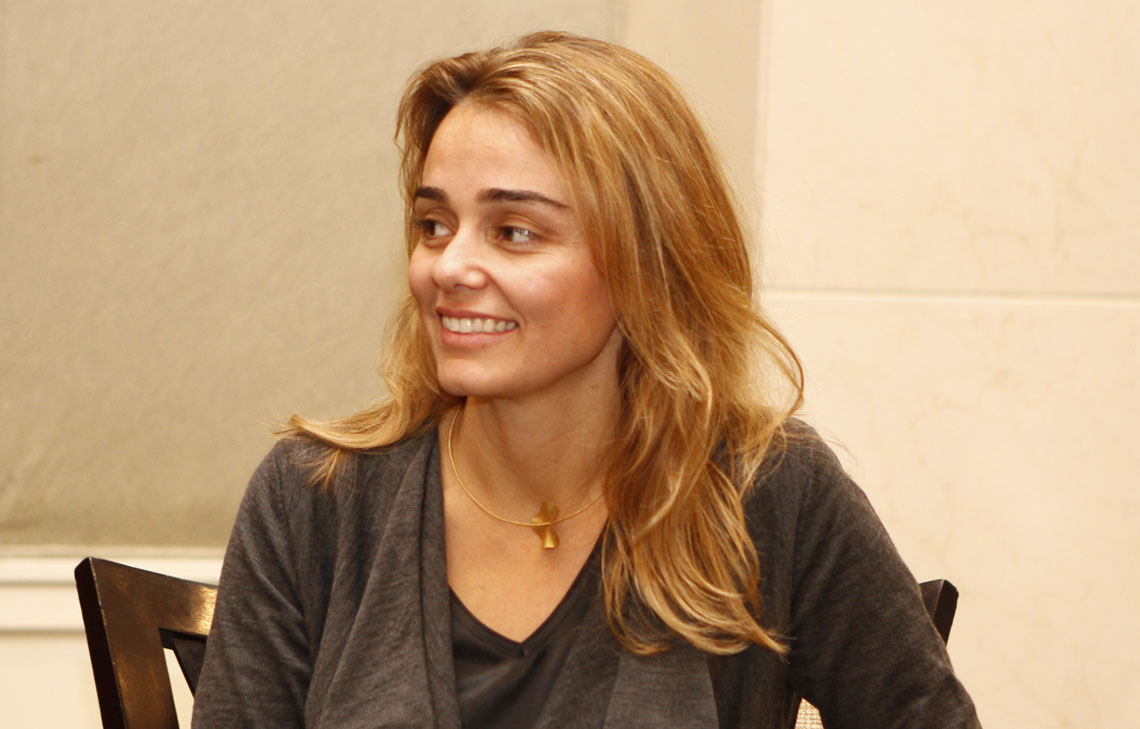 "As a woman who has been lucky enough to pursue my education and my interests, it is my responsibility to give this opportunity back to my community. I am very happy when I see other women succeed," says Muna Sukthian, managing director at Microfund for Women in Jordan.
Muna began her career as a management consultant in the United States, after which she returned to her home in Jordan to work for her family's multinational pharmaceutical company. But before long, Muna decided to harness her longstanding passion for social service and work as chief of staff to Her Majesty Queen Rania of Jordan
"All my life, I have been interested in social service," she said. "I have a strong will to make things happen." Muna's work with Queen Rania deepened that commitment as well as her interest in sustainable development. So when she was given a chance to invest in the fledgling Microfund for Women, a Jordanian microfinance institution working to economically empower the country's low-income women entrepreneurs, she jumped at the opportunity and became a member of the organization's board of directors.
As a board member, Muna was inspired by the dedication and commitment she saw in the women who worked to get Microfund for Women up and running. Her own commitment led her to assume leadership of the organization as managing director in 2008. Today, Microfund for Women provides collateral-free loans to start or strengthen businesses, helping women gain increased independence, helping create new jobs for community members, and providing low-income families with greater stability and opportunity. The organization views women as agents of change and envisions a more equal society where women are empowered to live inclusive lives and prosper.
To comprehensively serve Jordan's low-income women, Microfund for Women not only offers loans but vocational training and insurance products. Women's World Banking partnered with the institution to develop Caregiver, a health insurance offering that provides hospital-cash benefits to offset the expenses that often prevent clients from seeking care when an illness occurs. This holistic approach to meeting the needs of low-income women has proved enormously effective, paving the way for Microfund for Women's growth.
"As a woman who has been lucky enough to pursue my education and my interests, it is my responsibility to give this opportunity back to my community. I am very happy when I see other women succeed."
Under Muna's leadership, Microfund for Women now employs 500 staff, serving over 107,000 clients (77 percent of whom are women) through 50 branches across Jordan. The organization has also been recognized regionally and internationally as a leader in financial inclusion, garnering awards including the prestigious German Federal Enterprise for International Cooperation ("GIZ") Award at the Sanabel Conference in 2014.
Reflecting on her seven years at the helm, Muna credits her consulting background with helping to transform the organization into the leading microfinance institution that it is today. "My experience in management consulting helped a lot," she explains, "because a microfinance institution, like any other company, needs to be run very efficiently and rigorously."
Muna is continually inspired by Microfund for Women's clients, many of whom she has seen transform their lives through dedicated entrepreneurship. "One of our clients started with nothing. She took out a small business loan, and began selling food. She now runs her own supermarket – all this in a difficult economic environment," she says. "We are always so proud to contribute to our clients' success."
Witnessing the obstacles that her women clients continually overcome with hard work and financial tools, Muna recognizes that businesswomen in Jordan still have a long way to go. "I am very conscious that my experience is quite singular," she notes. "The fact, for instance, that women are leading our institution is not typical. In Jordan, Microfund for Women is the only such institution led by women."
Muna's eagerness to see other women access the kind of opportunities she herself enjoyed doesn't end with her work for Microfund for Women. She also serves as a board member of the Queen Rania Award for Excellence in Education and the Queen Rania Teacher Academy. She also recently completed a four-year term as a member of Amman City Council and joined Women's World Banking's Board of Trustees in 2015.