Mercedes Canalda: Legacy of Innovation and Empowerment of Women, the ADOPEM Story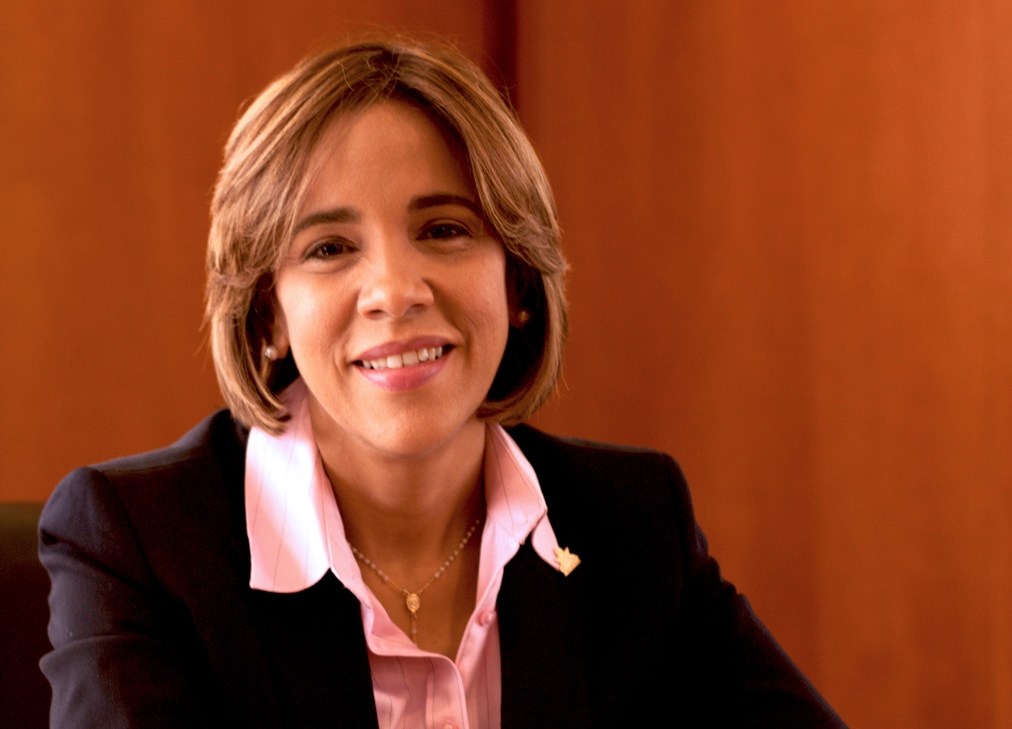 Academics, business leaders, and historians agree that one measure of a great leader is the legacy of his or her work and the mechanisms set in place to continue their missions well after they've moved on. With the day-to-day responsibilities of running a successful bank, a family, and supporting women's empowerment through a foundation, one wonders how the Canalda women found time to build a legacy. But these two unstoppable, passionate leaders have done just that in their mission to serve women in the Dominican Republic.
Since 1982, Doctora Mercedes Canalda and her daughter, Mercedes Canalda de Beras Goico (Meky) have spearheaded a movement in the Dominican Republic that has led to the financial empowerment of thousands of women and improved the overall well-being of hundreds of families across the country. The Asociación Dominicana para el Desarrollo de la Mujer (ADOPEM) NGO was founded by Dra. Canalda and a group of professional women concerned with the poverty levels in the country. Their mission was to improve the wellbeing of women and their families by offering financial education and credit to micro-entrepreneurs. In 2005, ADOPEM NGO officially transformed to Banco ADOPEM Savings and Loan. Today they continue their work by honoring their past, their family, and personal values, and by continuously looking for innovative ways to advance their goal of offering financial services and products that meet the needs of their clients, especially women.
During a recent conversation, Dra. Canalda and Meky's respect and admiration for one another came through as they shared each other's leadership paths and recounted the obstacles they faced transforming their small NGO to a full retail bank.
In a few words describe what legacy means to you?
Dra. Canalda: A transfer from one person to another, from one generation to the next. For leadership it means to do things well, with courage and creativity.
Meky: It's a commitment that a person creates for a team or that is left to us from our ancestors. The goal is for the student to be better than the teacher.
Looking at the future, what would you like your legacy to be?
Dra. Canalda: For me, it means family unity and the transfer of the business and its human capital. I believe that in order to be successful in business and life one needs to show consideration to the customers, the family, and to have respect for others. My legacy is respect for the business, being conscious that honest work requires transparency—that is the business.
In what way do you think Meky will contribute to that legacy?
Dra. Canalda: At her age, (Meky) has demonstrated that she can handle the family responsibilities but also the responsibilities of managing our business and its human capital. She has had more opportunities than I did and has learned from my experience. She has language skills, is up to date with social networking, and has had the opportunity to see the world and has taken advantage of training opportunities needed to advance. Not only do I feel that she can move the legacy forward, she can improve it.
What do you believe is Dra. Canalda's legacy and how do you plan to contribute to it?
Meky: The legacy of Doctora Canalda is innovation and the continuous commitment to improve. She is always thinking of ways to improve things; she is always asking "how can it be done better?" It is a difficult task—there is a lot of room for improvement as we look at the future. Clients demand more each day and it is a challenge to continue to innovate, to do better, to stay committed and to deliver high quality.
How and why did Dra. Canalda become involved with women's financial inclusion?
Meky: She became involved in microfinance when she realized that women had limited or no access to financial services and products. This awareness led to a commitment and a mission that began 30 years ago. Her family was incredibly influential in shaping her mission-driven career. Her parents were dedicated to providing more opportunities, education, to her and her siblings. Her background in law also provided her the tools and mechanism to champion new laws and regulatory frameworks to provide more opportunities for women.
"Thank you—as simple as that. I'm grateful for everything that she has achieved, everything she has given. Her legacy to me is invaluable."
How did Meky become involved in ADOPEM and the financial inclusion sector more broadly?
Dra. Canalda: At a young age Meky saw me form the NGO. She also had an aunt who worked in development, which created an awareness that few have at that early stage of life. In her early career, she took a three- month sabbatical from work to work at ADOPEM at a critical period for the NGO. She fell in love with microfinance when she connected with the customers. She felt that she would make a significant contribution and impact on society with the work we were doing in our country. She left a lucrative post at the Central Bank to join my efforts. In those days, we had no furniture, we sat on boxes—ADOPEM had truly humble beginnings. Over the years, she has become more involved and committed to supporting financial inclusion.
What have been key turning points in Dra. Canalda's career?
Meky: She has managed to open doors and has eliminated institutional barriers for ADOPEM. She managed to reach and influence stakeholders, allowing for more tangible collaborations, greater scale, and the resources to keep a keen eye on the mission. She has been committed and supportive to women with the same passion for over 30 years. She does not tolerate insecurities. Those are the elements that set her apart from the rest.
What do you think inspired Meky to follow in your footsteps?
Dra. Canalda: At a relatively early age she started to dedicate her time and energy to this mission. She met other women who dedicated their time and worked tirelessly but with lots of joy. She witnessed the highs and the lows and quickly learned that this business had very few luxuries. However, she was committed to strengthening the institution and the mission. She was aware that our country lacked this type of commitment. She joined us, not only to develop herself but other women as well.
What types of challenges, if any, has Dra. Canalda faced as a women leader?
Meky: Dra. Canalda took on positions that had previously only been held by men. She participated in events where women were not welcomed and worked on structural and cultural changes that were not supported. It was a challenge to lead change and to get buy-in, but she persevered and continued to innovate and succeed.
What types of challenges has Meky overcome as a women leader?
Dra. Canalda: The primary challenge has been in balancing her work responsibilities and her family life. She joined ADOPEM when her family was growing, but with love and focus she was able to raise strong and well-rounded children. She was also tasked with managing institutional change at a time when the future of the market and our segment was not very clear. Those were tough times.
What is the future of financial inclusion in the Dominican Republic?
Meky: Efficiency and product innovation are the themes of the future. Avoiding over-indebtedness will be a challenge that we will continue to address as well as finding the mechanisms to reach clients in marginalized regions. Finding ways to support the client and to meet their needs will continue to be our number one priority.
Any word of advice for young women entering the financial inclusion sector?
Meky: Women need to fight for what they want. Trainings and building their own leadership capacity is key. They need to have clear goals and clear strategies to meet them. Opportunities exist, they need to find them and take advantage of them when they come along.
If you have words for Dra. Canalda regarding her legacy, what would those be?
Meky: Thank you—as simple as that. I'm grateful for everything that she has achieved, everything she has given. Her legacy to me is invaluable.
What words would you use to describe Meky?
Dra. Canalda: Excellent daughter, exemplary member of our family, and a woman with clear direction.