Roshaneh Zafar: Microfinance Pioneer in Pakistan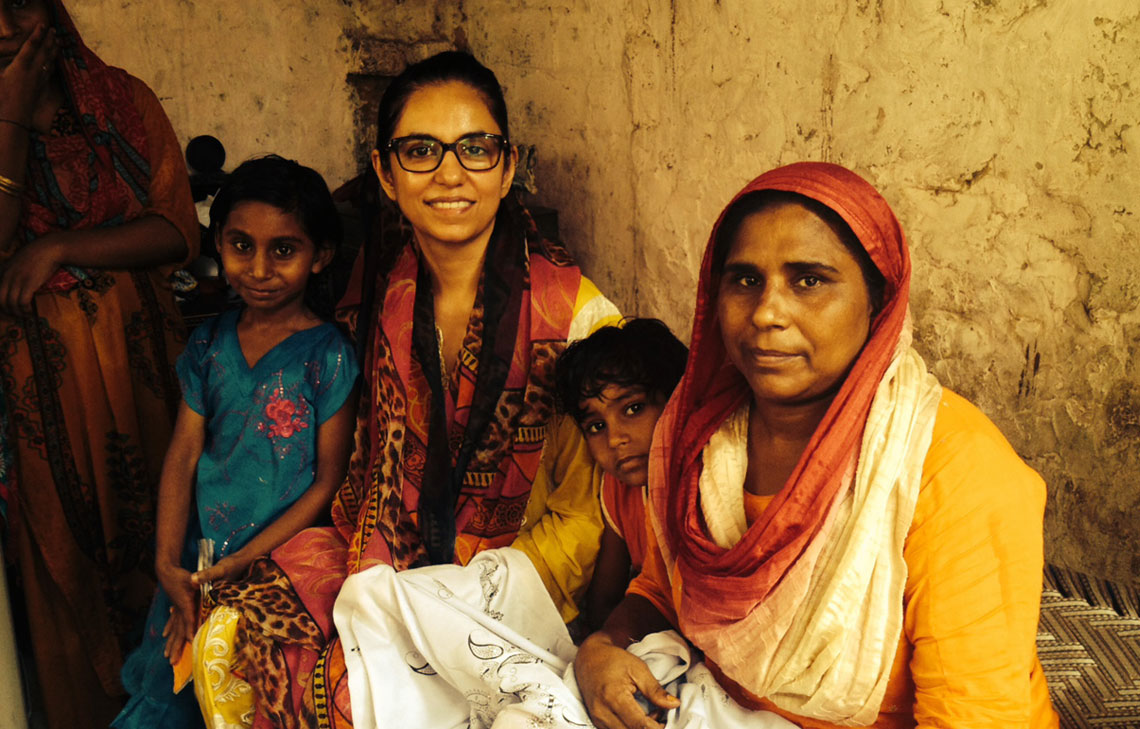 Roshaneh Zafar is an internationally recognized leader in the field of women's economic empowerment. She is known for fighting poverty with microfinance and for her dedication to empowering Pakistan's impoverished women. She has been instrumental in providing women access to finance and equipping women with the tools required to run their own businesses successfully. In doing so, she has helped create jobs and unlock opportunities for hundreds of thousands of women across Pakistan.
Roshaneh believes in the Chinese saying: "If you want one year of prosperity, grow grain. If you want 10 years of prosperity, grow trees. If you want 100 years of prosperity, grow people." After completing her education Roshaneh decided that she wanted to pursue a career in development and she began working for the World Bank as a 'women-in-development associate' in the water and sanitation sector.The youngest of four siblings, Roshaneh Zafar is the daughter of Pakistan's renowned human rights activist and constitutional lawyer, Senator S.M. Zafar and Mrs. Saifee Zafar. Her maternal grandmother was Pakistan's famed classical singer Malika Pukhraj. Roshaneh was greatly inspired by her grandmother and what she stood for. "My grandmother believed that women should pursue independent careers, encouraging the girls in the family to pursue academic careers and work. She had a great influence on who we are. She once told me that doing something for the women of Pakistan was the best thing I could ever do for the country!" recalls Roshaneh.
While Roshaneh herself never faced discrimination, growing up she was very cognizant of the punitive socioeconomic hurdles and massive discrimination faced by Pakistani women. She volunteered for a rape-crisis intervention center in Islamabad while still at the World Bank and became further involved in this issue during the years she spent traveling to the hinterlands of Pakistan speaking with women from low-income communities. She says, "Many of them told me that it was all about economic empowerment – if women were able to earn money, they could transform their families and ultimately their communities." She attended a conference in Islamabad, where she was seated next to Professor Muhammad Yunus, founder of Grameen Bank. She found him inspiring in his thinking about how finance can empower women. The meeting with Professor Yunus, Roshaneh says, "triggered a Eureka moment."
Roshaneh decided to visit Grameen Bank in Bangladesh and was impressed by the thousands of women running successful businesses and paying off their loans despite deep rooted poverty and the frequency of natural calamities in the country. She wanted to join Grameen Bank, but Yunus told her, "Pakistan needs you more than Bangladesh." He lent her $10,000 to start a microfinance institution (MFI) in Pakistan, but Roshaneh felt she needed more information first. For a year, she studied microfinance models across the world, focusing on those in South Asia, including a visit to the Self Employed Women's Association (SEWA) in India. Roshaneh knew Pakistan needed something similar to address the issue of financial exclusion of low-income households and to help women become an active part of the economy. She believes "investing in women is smart economics."
She established Kashf Foundation in 1996 with the funds from Professor Yunus. Her grandmother Malika Puhkaraj was the first donor from the family; she also used her own savings. 'Kashf 'means miracle or revelation, a process of self-actualization. During the action research phase of establishing the organization, Roshaneh and her team of five other women focused on understanding the demand for microfinance services among low-income female entrepreneurs. In the early days, Roshaneh was warned that a women-centric microfinance program would not work in Pakistan. She was told that women weren't primarily interested in working and that poor people were not creditworthy. She was also warned that she would not be able to attract female field staff. But with perseverance and the support from other like- minded individuals, Roshaneh overcame these challenges, and today, Kashf is Pakistan's standard bearer for promoting the business case for investing in women's entrepreneurship. The organization provides microfinance, job opportunities and training for women and supports over hundreds of thousands of women and their families. Clients are engaged in successful endeavors from traditional embellishment work, embroidery, tailoring and stitching to more innovative businesses such as manufacturing wigs, making party decorations, packaging spices, running recycling businesses, and setting up beauty parlors.
"Charity is limited, but social business isn't. If you want to change the world, you need sustainable solutions."
Since its inception, Kashf has been a trailblazer in Pakistan. In 1999 it introduced the first pro-women consumption loan in the sector. In 2001 it was the first MFI to offer microinsurance services by collaborating with one of Pakistan's oldest insurance companies, in 2003 it was the first MFI to become financially sustainable, and in 2004 it was the first MFI to obtain an investable credit rating, while today it is the only MFI in Pakistan offering affordable health insurance services to its clients and their families, along with running a successful financial education programme. In 2008, Roshaneh became the first female CEO to receive a banking license from the first event female governor of the State Bank of India, forming the Kashf Microfinance Bank.
In 2010, Kashf Foundation was the first MFI in Pakistan to completely move away from the group lending methodology in favor of an individual credit-appraisal lending product for women entrepreneurs. The Foundation has also started offering saving products to help clients build assets. These have been paired with a strong focus on financial education and business development to enhance the impact of the financial service program. Moreover, Kashf has also introduced a women centric family health insurance program for its clients to improve their access to healthcare.
Kashf, which has been venturing further into the education sector, was also the first MFI in Pakistan to introduce a special product for entrepreneurs running schools in low-income communities through its low-cost-private school finance program. It has also recently introduced a vocational training program for the three main trades that low-income women are involved in: tailoring, embellishment and beauty salons. Kashf Foundation is also the first microfinance institution in Pakistan to produce and air an awareness-raising campaign through mainstream media, including a popular 15-episode television show called Rehaii that focused on issues faced by women in low-income households.
Kashf aims to be the first wealth management company for women from low-income households in Pakistan by providing products and services that cater to the multitude of needs that low-income households have. To sustain and deepen the impact of their services, Kashf not only strictly implements the Consumer Protection Code, but also provides clients with the means to report their experiences with Kashf directly to the management.
Currently, Kashf's largest challenges include Pakistan's deteriorating economic condition, rising inflation and increased costs of running a business due to electricity shortages. These issues, together with uncertain law and order situation and security concerns, affect both Kashf and its clients' businesses.
Roshaneh is indeed a pioneer in women's economic empowerment. She was highlighted by Forbes magazine among "Women changing the world: Social Entrepreneurs" and has received several awards, including the Skoll Award for Entrepreneurship, Tamghai Imtiaz and Vital Voices Economic Empowerment Award.
Roshaneh believes that self-audit and self-accountability is essential to ensure good work-life balance. She says, "We really need to know who we are and rely on our inner uniqueness and inner goodness. If you want to be outstanding in life, you have to develop a self-code of personal excellence."
"Charity is limited, but social business isn't," Roshaneh says. "If you want to change the world, you need sustainable solutions." That's the point of microfinance.
Further Reading:
Interview with Roshaneh Zafar by Knowledge @ Wharton Detailed
Article by Roshaneh Zafar in Newsweek Pakistan
A video featuring Roshaneh Zafar by the Microcredit Summit Campaign
A video interview with Roshaneh Zafar by Global X 

Sources for this Story: 
https://www.ashoka.org/fellow/roshaneh-zafar
http://www.vitalvoices.org/vital-voices-women/featured-voices/roshaneh-zafar